Welcome
The Moorpark College Foundation is a not-for-profit, tax-exempt 501(c)(3) corporation which accepts and solicits gifts, donations, trusts, and bequests for college-related use. It provides tax-deductible advantages to the donor. It also provides a method for the college to interact with businesses, government, and other nonprofit agencies in the broader Southern California community.
A volunteer board of community leaders serves as the Board of Directors.
Through the work of the Moorpark College Foundation and numerous corporate and individual donors, more than $100,000 each year is given out in scholarships.
The Moorpark College Foundation recognizes those who make annual gifts of $1,000 or more by inviting them to join the President's Circle. President's Circle members are acknowledged in all Foundation publications, on the website, and on an Honor Roll plaque. They also receive tickets to America's Teaching Zoo, athletic events, and performances.
The Moorpark College Foundation is a 501(c)(3) nonprofit corporation recognized by the Internal Revenue Service. Tax ID # 95-3533986.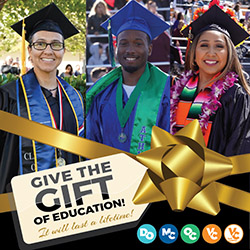 Give a gift with lasting impact:
A gift of education – it will last a lifetime. When you make a donation to the Moorpark College Foundation, you're giving thousands of students a bright future, and supporting your community.